Excavating Company in Holmen, WI
Dave Rybold Excavating & Plumbing in Holmen, WI specializes in residential excavation, outdoor plumbing, and septic tank installations. Our excavation contracting company's team of professionals tackles both residential and light commercial jobs. From demolition to lot clearing, we have the equipment needed to get every job done right. Contact us today for a completely free estimate on excavation or septic work.
---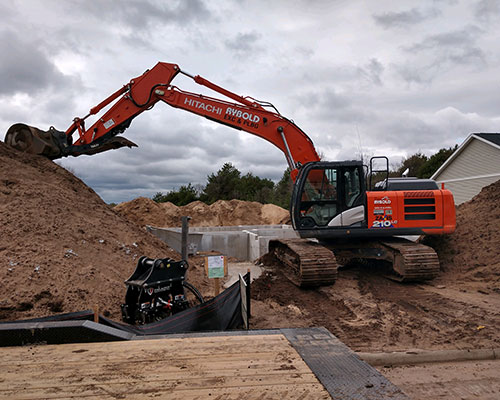 Excavation and Septic Work of the Highest Caliber
Excavation is the foundation of any development project. It's the first thing you need to think about when reading a site—whether that means lot clearing, grading, excavating, trenching or general earthmoving. At the beginning of your upcoming project, choose an excavating company that's ready to work quickly and with care, to get your project off on the right foot and ready for the next phase.
In Holmen, New Amsterdam, Midway, Brice Prairie, and West Salem, WI and the surrounding areas, Dave Rybold Excavating & Plumbing is the only call you need to make. We're an earthmoving expert with decades of experience under our belts. Backed by heavy machinery and well-trained staff, we're your all-in-one solution to excavation, lot clearing, demolition, and general site prep. We're also an experienced septic tank company and can trench out laterals as well as install the tank itself. We're at-home on any job site, residential or commercial, whether we're working solo to prepare the lot or in conjunction with construction and development professionals.
Start your project by putting site prep into the hands of a capable excavating company. Dave Rybold Excavating & Plumbing in Holmen, WI is your all-in-one lot clearing, excavation and demolition company, meeting the expectations of any project. We'll ensure the right foundation is in place for whatever your land is set to become.

We prize quality work and attention to detail, setting the tone for projects done right.
We take site cleanup seriously. You'll never know we were there after a job is complete!

For larger projects, our excavation contracting company is accustomed to partnering with other contractors.

We're members of the Lacrosse Area Homebuilders Association. We're affiliated with the Better Business Bureau (BBB), with a superior rating!
Excavating and septic tank company serving customers in the following areas:
Holmen, WI
Onalaska, WI
Galesville, WI
La Crosse, WI
Trempealeau, WI
Ettrick, WI
West Salem, WI
Mindoro, WI
Council Bay, WI
Melrose, WI
La Crosse County, W
Trempealeau County, WI
Jackson County, WI
Butman Corners, WI
Vernon County, WI
Vernon County, WI
Buffalo County, WI
Stevenstown, WI
---
Experience Excavation Excellence
Dave Rybold Excavating & Plumbing can deliver on excavation projects of all types, with a proven record of excellence. Contact our demolition company today for a totally free estimate on your project.
Contact Us